Our 9-12 Model
Through our six EDGE programs, we are able to offer all students a variety of opportunities to allow students of all interest, passions, and talents to take part in work-base learning that supports their individual career preparation and training.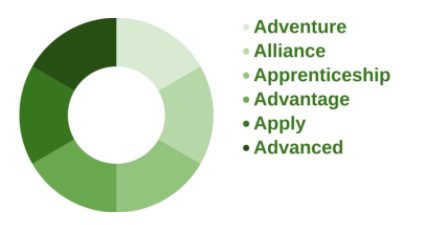 Experienced Based Career Education (EBCE) for students with disabilities. Students learn how to apply job skills learned in school to real-life, job-training experience.
Education Based Career Exploration (EBCE) is a two period course given to students who have an IEP. The students go to a business where they learn job skills. Students get a new job site each quarter of the school year. The experience is completed during scheduled periods on Mondays, Tuesdays, Thursdays and Fridays. On Wednesdays, they have classroom time where they learn about job skills, filling out job applications, hygiene, a work portfolio, and many more work related activities. EBCE is given through the school in partnership with Imagine the Possibilities.
Through the iJAG program, students discover their individual talents, develop employability and self-advocating skills, and seize the opportunities to achieve their personal potential.
iJAG (Iowa Jobs for America's Graduates) is a career exploration and preparation program that provides a hands-on approach in exploring personal strengths and challenges as well as job attainment skills (cover letter, resume, job application, interviewing, etc.) and workplace "survival" skills (interpersonal relations, teamwork, etc.) . Students also work to build strengths in academic areas, time management, and communication. The individual and team projects help students come to an understanding of personality, temperament, and the relationship between personal actions and consequences that follow.
Students make connections to their career interests, abilities, and aptitudes by determining their education and career goals through development of an Individual Career Development Plan. This full-year, credited course involves individual assignments, team activities/projects, academic remediation support, service learning opportunities, guest speakers, field trips (including iJAG events in Des Moines), and career exploration through job shadowing and/or an internship. Students also participate in the iJAG Career Association in various activities focused on Career and Leadership Development, Service Learning, and Civic/Social Awareness. -iJAG
This program is given in partnership with support from Iowa Vocational Rehabilitation Services. However, any student is allowed to participate.
Our quality pre-apprenticeship program is in partnerships with Kruck Plumbing and Heating and Associated Builders and Contractors of Iowa Apprenticeship & Training Trust. Students learn skills through online modules and gain years of experience with a quality apprentice partner through on-the-job labs.
This program prepares students to explore, prepare for, and enter a career. This program offers classroom experience and online training modules as well as labs, on-the-job training, and/or an internship. These experiences are related to their future education or career goals. Boone High School partners with numerous community employers in several fields. Students attend regular classes in the morning and have afternoons available for this program.
Advantage students learn through collaborative, project-based learning by working in the community with businesses, government, and nonprofit organizations on authentic projects. They apply academic learning and refine employability skills.
Students enrolled in our Apply courses enroll in courses the produce goods or services for sale or to be used by people other than the participating students. Course examples include Toreador Take & Bake, Survey of Education, Sports Broadcasting, Advanced Digital Journalism, Advanced Video Production, Toreador Metal Works, Precision Ag Technology, Health Occupations, Tech Team, & Engineering Design & Development.
Students enrolled in Advanced courses design an individual learning experience through a project in collaboration with a teacher and a business partner typically through EXCEL or complete an internship and accompanying coursework. Projects and internships advance individual passions and skills while providing a high quality, industry-relevant, experience. Students can enroll in EDGE Advanced Internship/Mentorship Plus, which will allow students to receive five DMACC credits in two different courses and two Boone High credits upon completion of coursework and 120 hours on the job. Students can also enroll in EDGE Advanced/Internship/Mentorship for Boone credit upon completion of coursework and 60 hours on the job.