7th and 12th GRADE VACCINE REQUIREMENTS for 2021/22 School Year Iowa Immunization law requires all students entering 7th grade must have received a Tdap booster and proof of one meningitis vaccine. 12th graders will need proof of 2 doses of the meningitis vaccine, or 1 dose if received after the student was 16 years or older. All students entering 7th and 12th grade must have a certificate on file of proof of receiving the Meningococcal vaccine and Tdap in order to attend the first day of school. The state does NOT allow a grace period or extension. Now is a great time to ensure your student meets the immunization requirements and is able to begin school on August 23, 2021. Health care providers continue to recommend students remain up to date on required immunizations. Appointments can be made with your student's own health care provider or by calling Boone County Public Health at 432-1127. If your student has already received vaccines, please forward a copy of the immunization certificate to the student's school. FAX TO: School Nurse at MS Fax # 515-433-0026 HS Fax # 515-433-0989 MAIL TO: School Nurse at Middle School High School 1640 1st Street 400 7th Street Boone, IA 50036 Boone, IA 50036



Boone Comunity School District to Offer Free Summer Meals to All Kids When school lets out for the summer, kids 18 years old and younger can continue to receive free nutritious meals from Boone Community School District. There is no application necessary to receive meals and families do not have to show proof of income. The meals are funded by the federal government to ensure kids and teens receive nutritious meals during June, July and August. These free meals can help families save time and stretch their household food budget while providing children with sound nutrition and a connection to their schools during the summer. Meals provided by school districts and nonprofit organizations are an important safety net for hungry kids and families. According to hunger advocacy organization Feeding America, demand at U.S. food shelves increased more than 55 percent following the outbreak of COVID-19 in 2020. In 2021, Feeding America estimates that "42 million people, including 13 million children, may be at risk of hunger." FREE MEALS ARE AVAILABLE: Monday - Friday at Boone High School Cafeteria The varied meals all meet federal nutritional guidelines to ensure kids get the nutrition they need for growth and development. The meals include foods such as walking tacos,hamburgers chicken nuggets, fruit and/or vegetables, yogurt, crackers or chips and milk. Kids and teens ages 18 and younger can just show up during the hours of operation. In addition to BCSD, other summer meal sites can be identified by texting "Summer Meals" to 97779 or calling 1-866-348-6479.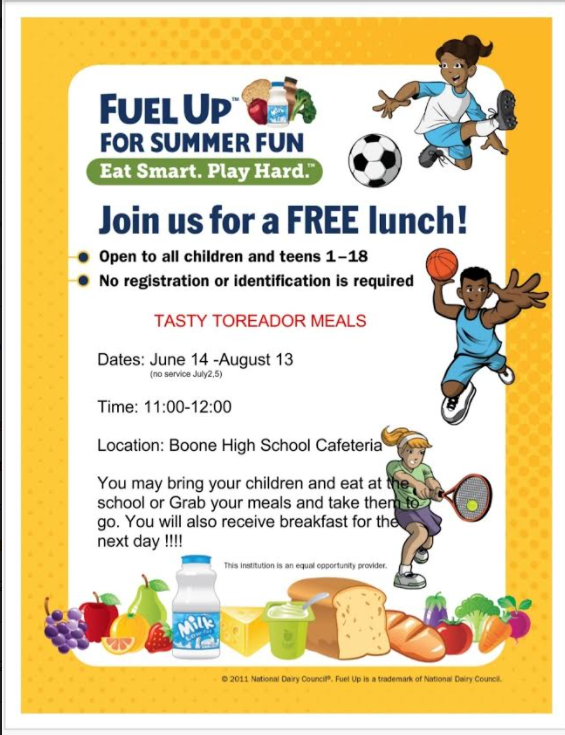 It just doesn't feel the same around here without you! We miss you already! Congratulations on your retirement Joyce Hill and for the amazing 17 years of unforgettable service to Boone Schools Nutrition Department!


Last week of school announcements: We will have a 2 hour early dismissal Wednesday the 2nd. The Last day of school will be Friday June 4th. This day will also be a 2 hour early dismissal.

It's graduation day! Come celebrate the Class of 2021 at 2:00 pm at Goeppinger Field.



Be sure to join us for our food program this summer! BCSD is proud to feed the kids in our community. Grab lunch to go and even breakfast for the next day.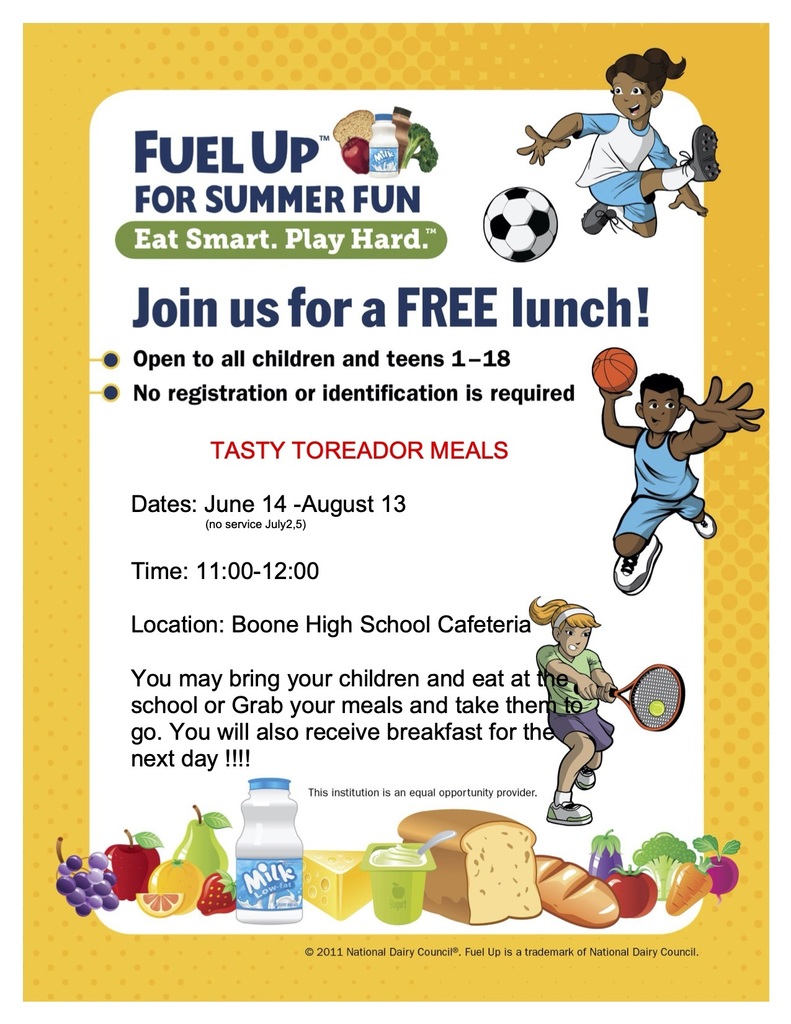 In accordance with the passing of Bill HF 847 late last night in the Iowa House and Senate and the Governor's office regarding mask mandates, staff and students are not required to wear masks for the remainder of the school year effective today. Staff and students may still choose to wear a mask if they prefer, however, it is no longer a requirement. Thank you for your continued support. Julie Trepa Superintendent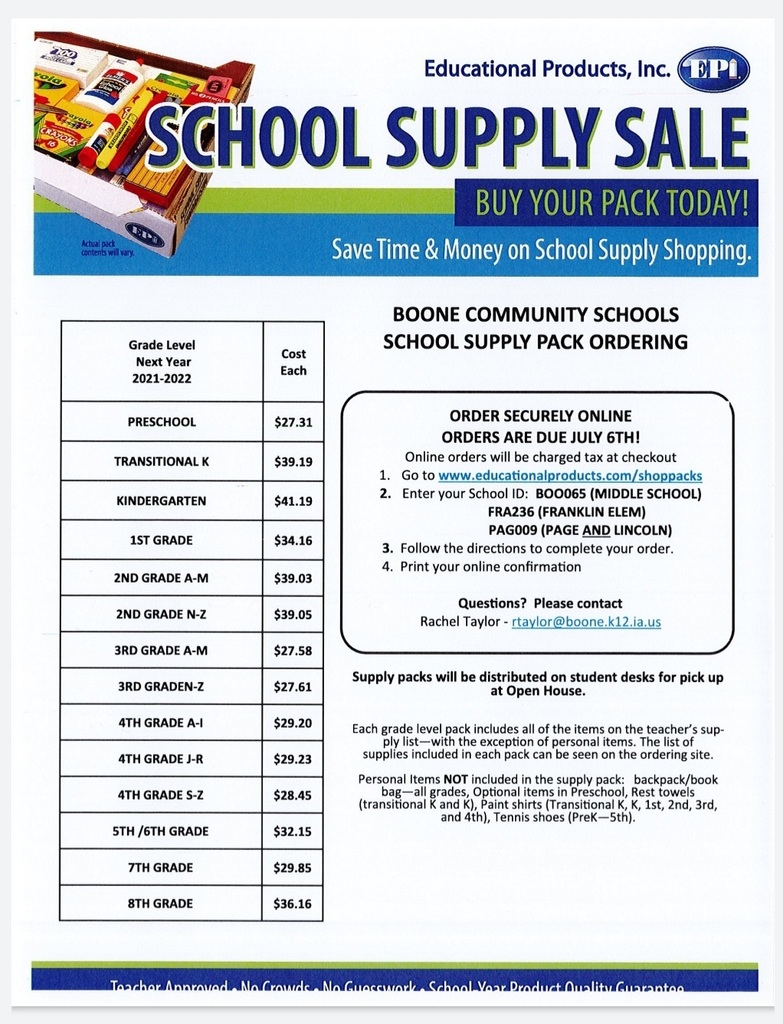 Rounding out the bunch finishing with the middle school, I'd say we have quite the "dream team" working for our entire BCSD Food Service department. Recognizing our hero's is what we love best!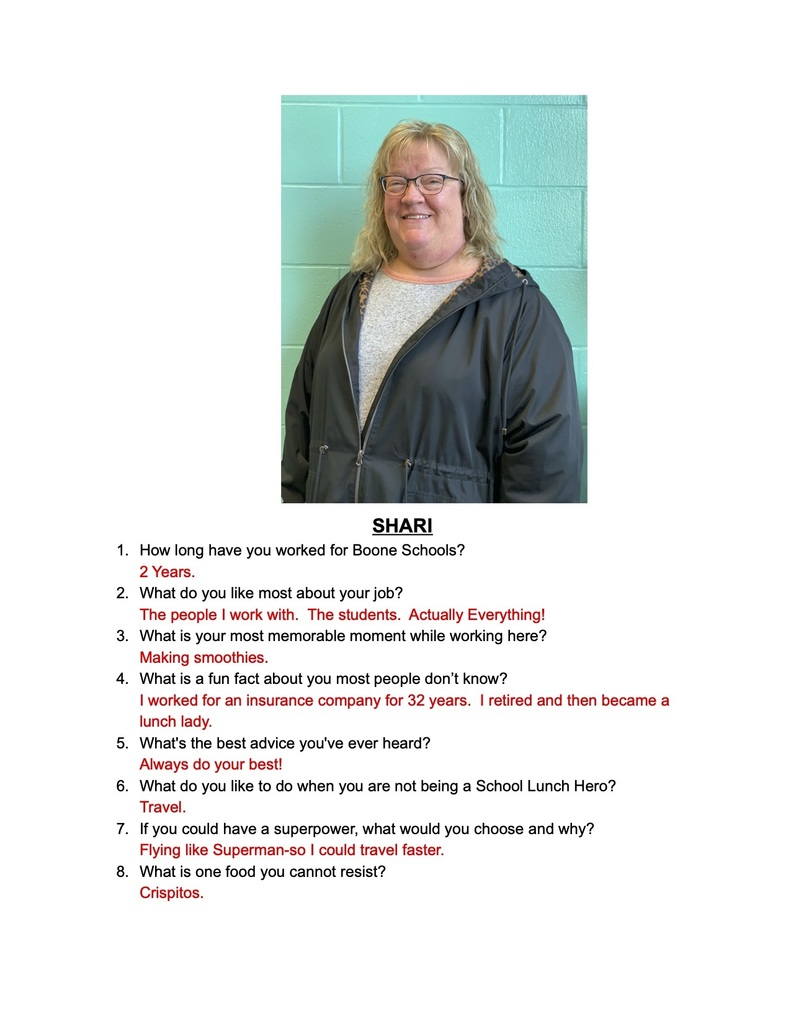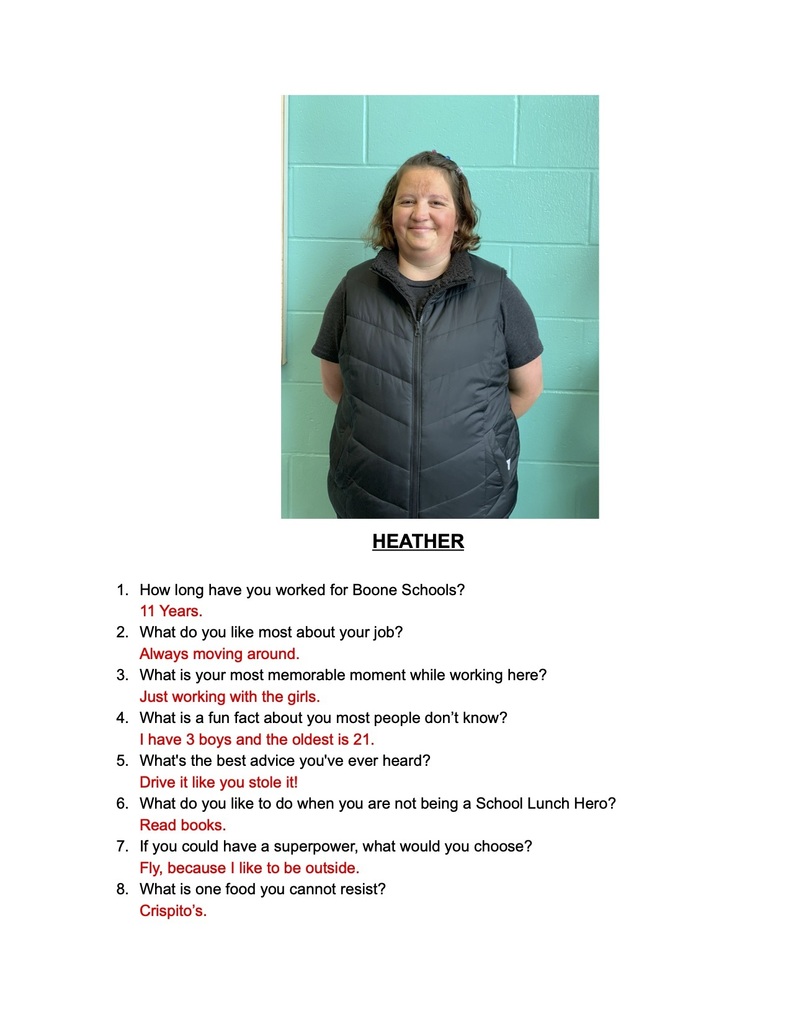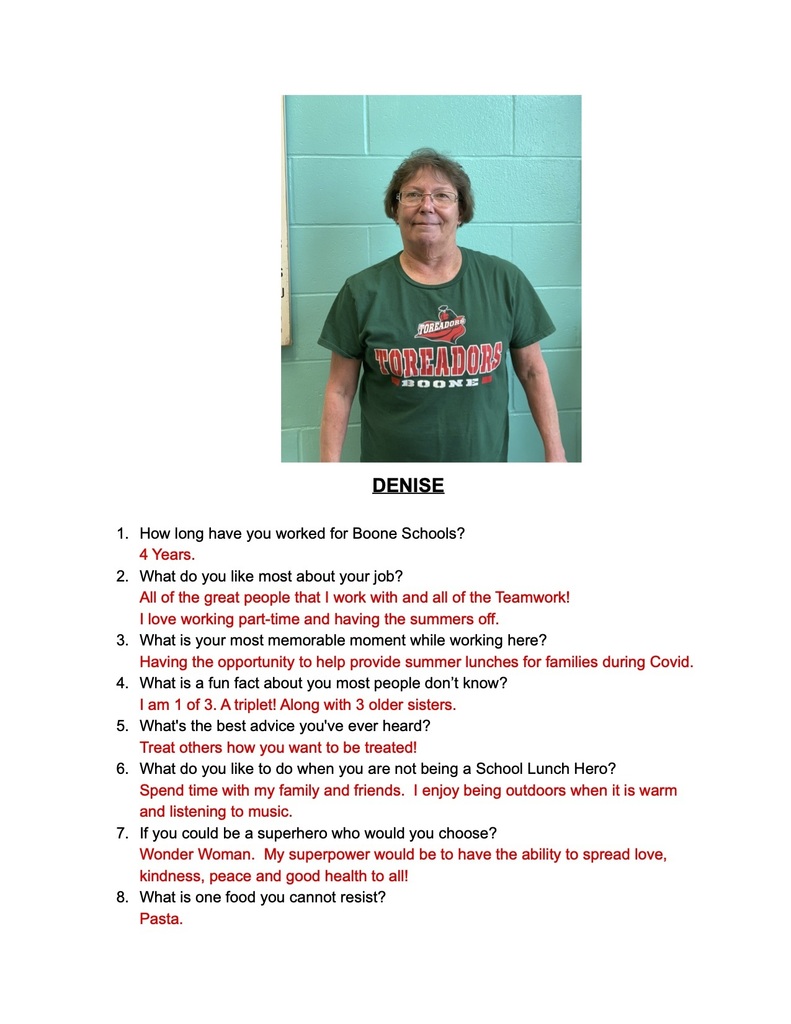 Rounding out the bunch finishing with the middle school, I'd say we have quite the "dream team" working for our entire BCSD Food Service department. Recognizing our hero's is what we love best!