Another drum roll please.... The new name for our Futures Alternative High School and Boone HSAP Program is..... Crossroads Learning Hub!! We are excited so for this new journey!!

Please help us welcome some of our new Teachers to the Toreador Family!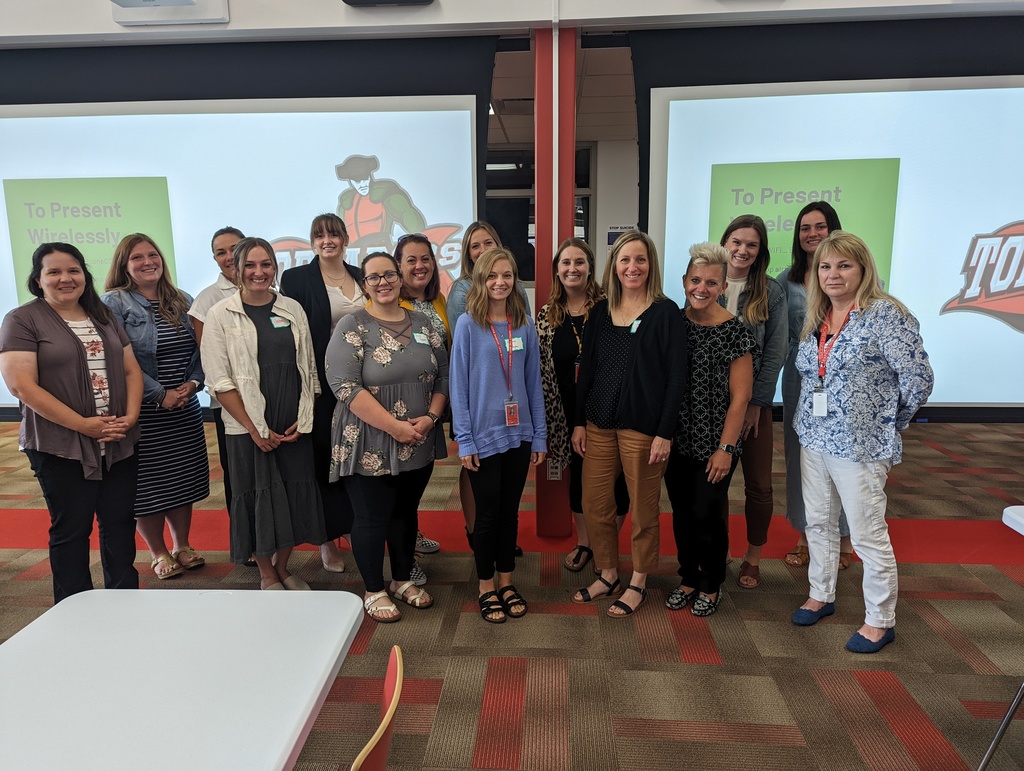 A Special Announcement from Principal Seiler!! Thank you to all of you that gave suggestions and voted to name our new school! What a great community! A special thank you to our naming committee that supported this work with their time and energy! Drum roll please… the Elementary School on Hancock Drive will be called: Ledges Elementary School!

More pictures from todays amazing event with Clint Pulver!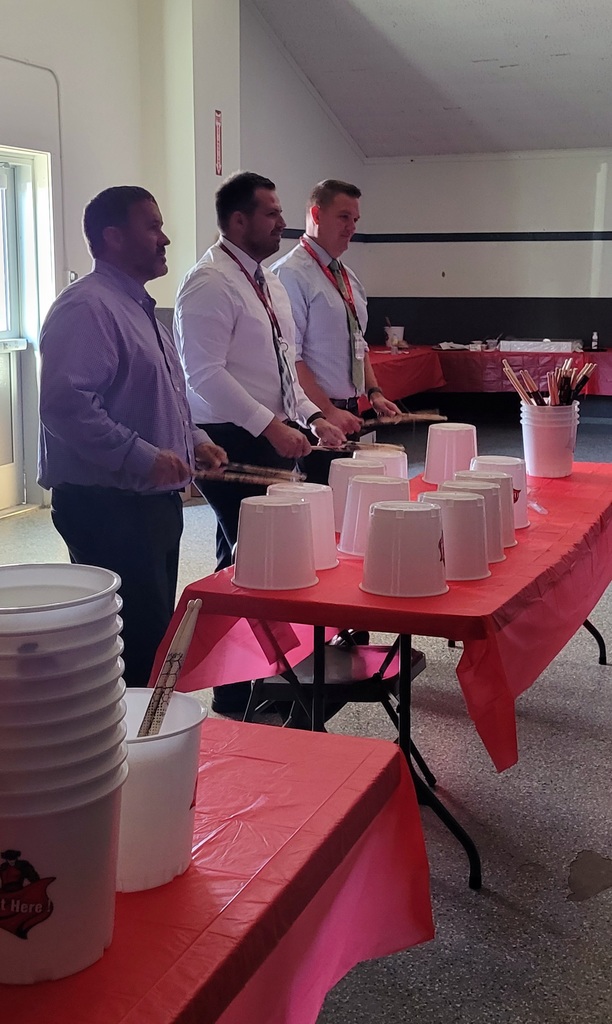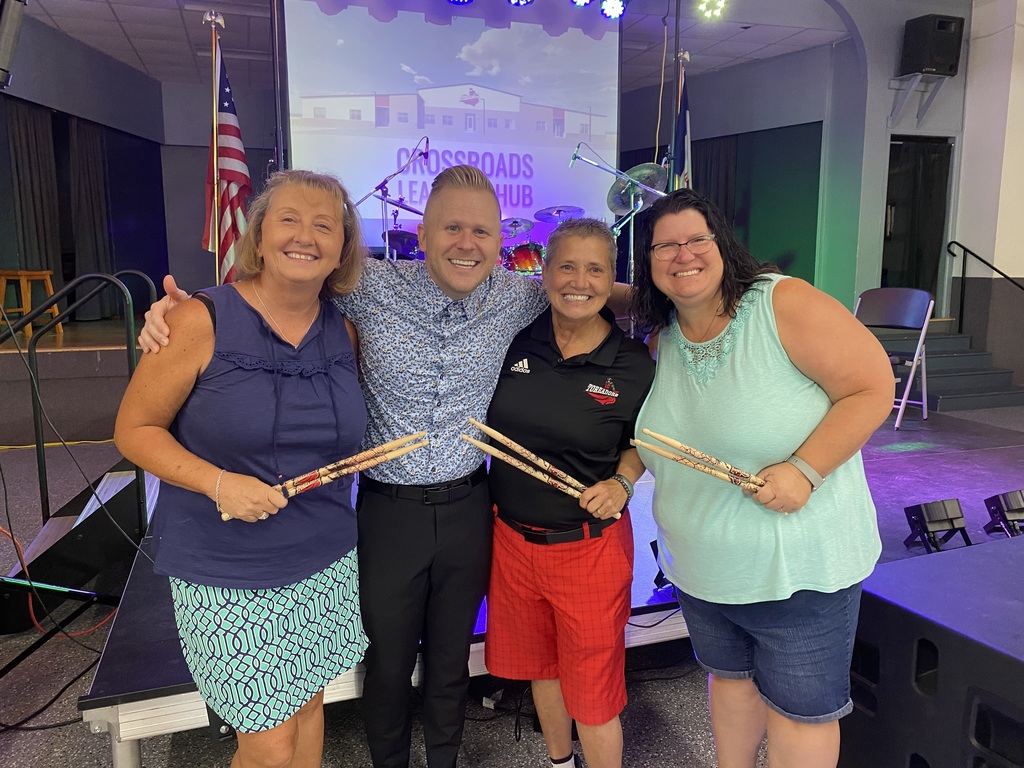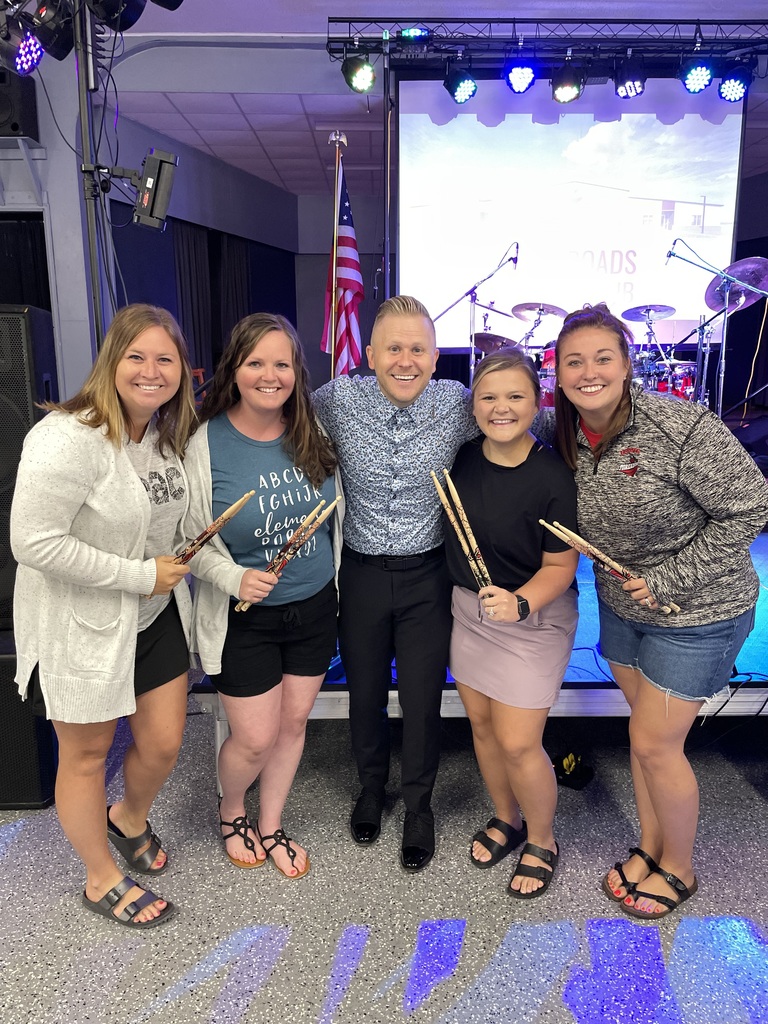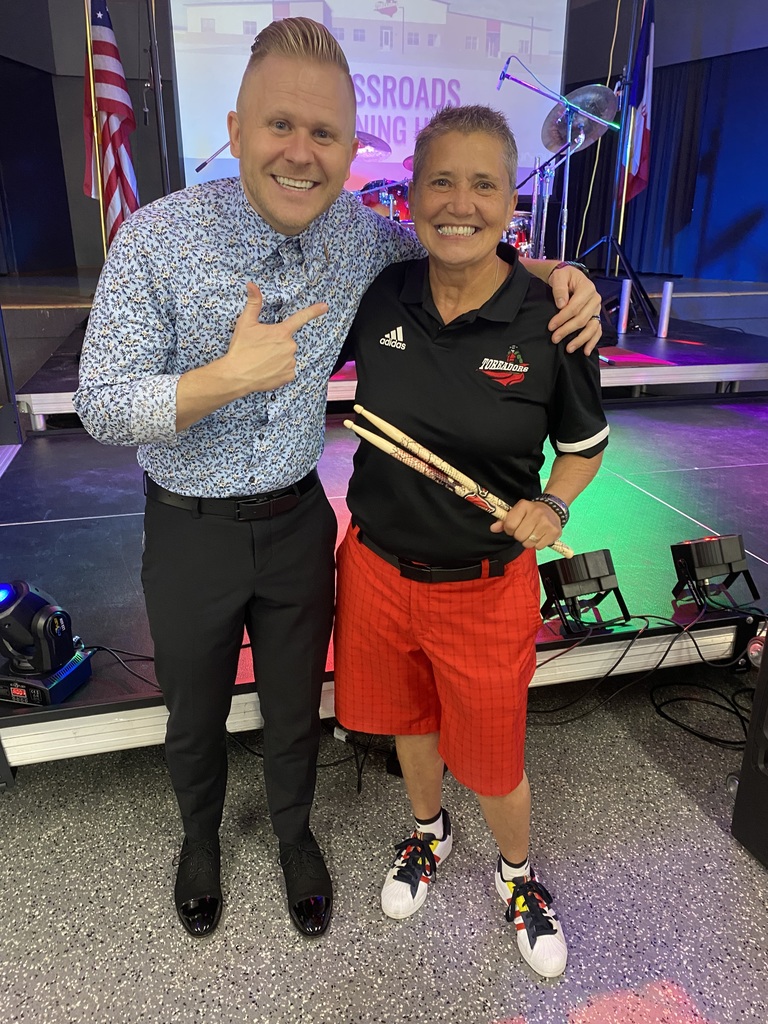 Boone Staff STIX Together! We had an amazing welcome back celebration today with the BCSD with special guest Clint Pulver!! Clint is an Emmy Award Winning Keynote Speaker and Professional Drummer, also known as "The Undercover Millennial". Clint shared his insights on how to build a team that really works. "You'll be recognizing possibilities where others see problems, and capturing the power of small moments to create a meaningful legacy. Your company can be a place where people don't just survive, but thrive" - Clint Pulver Thank you to all of our sponsors who helped make this event possible! Fareway Meat and Grocery Stecker Concrete Dutch Oven Bakery Kruck Plumbing Pritchard Brothers Boehm Insurance Forte Hope Foundation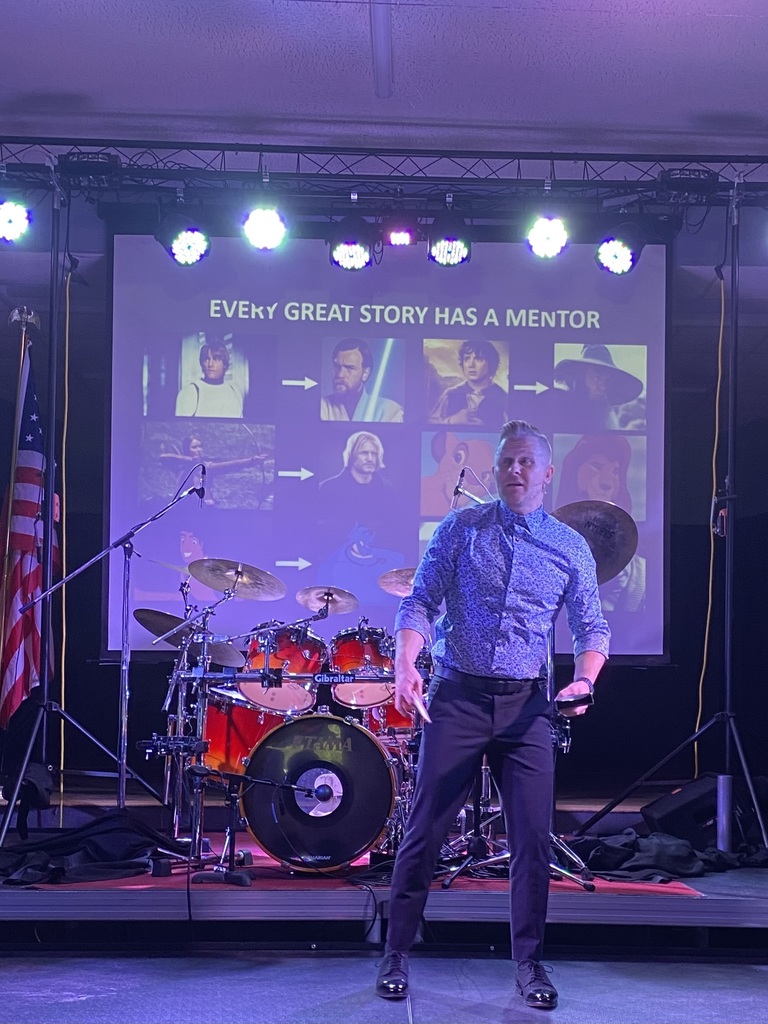 *** Attention *** All Buildings including Central Office will be closed 8/17/22 from 8am to 11am for All Staff Meetings. We are getting so excited to see everyone back next week!!

The BCSD is hiring! We currently have a part time position open for a Bus Route Driver and a full time position open for a PM Custodian. See the flyers below! Apply today!
https://www.applitrack.com/boone/onlineapp/default.aspx?all=
Boone Community School District is an equal opportunity employer. If you have questions or a grievance, contact the BCSD Equity Coordinator Mrs. Jill Janes,
jjanes@boone.k12.ia.us
, at BCSD, 500 7th Street, Boone, Iowa 50036; (515) 433-0750.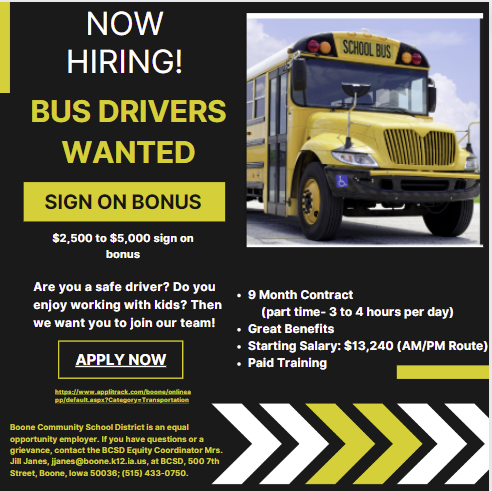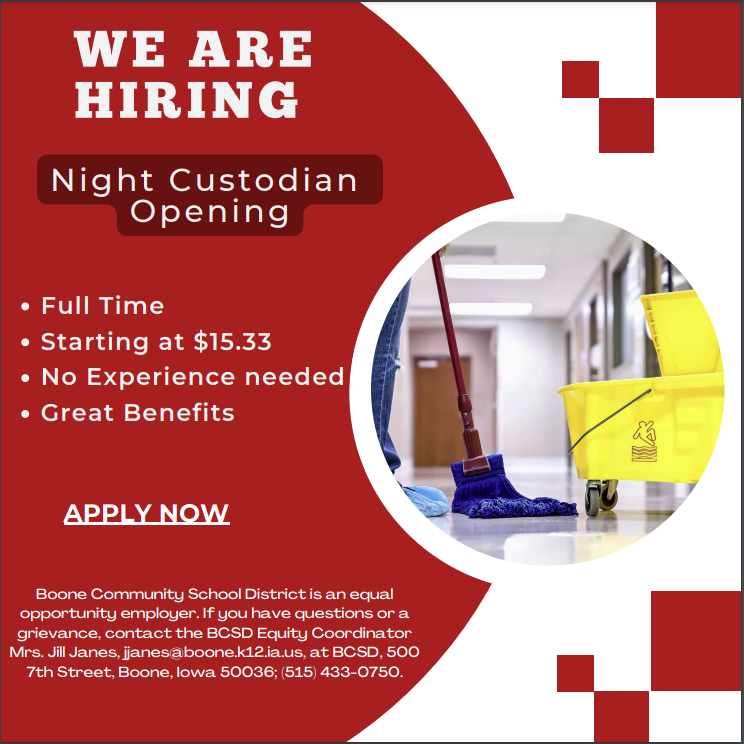 TONIGHT IS THE NIGHT!!!! Come ROCK THE BLOCK with Stonebridge Church from 6 - 8pm!! TONS of FREE School Supplies, FREE Food, and FUN activities to do as a family! It's gonna be a GREAT NIGHT, so invite your friends and plan to join us!! Check in at the Welcome Table near the Main Building for School Supplies (Children MUST be present to receive supplies)! Food & Fun are located in the Parking Lot! HUGE THANKS to Community Partners for helping make this event a success!! 🚓 Boone Police Benevolence Association 🚓 🌭 Fareway Stores Boone 🍪 👩‍🏫 Boone Community School District 👨‍🏫 🖍✏️ Stonebridge Church 📓📒

Did you know that Boone Community School District now has an Instagram? Please follow us for all the latest info about the District! @boone_csd

Please note time change for Freshman/New Student Orientation: 5:00 to 7:00


It's down to two choices! We need one more vote from you! Voting will close at midnight on August 15th. Below, you will find the names that got the two highest votes. Please take a moment to vote! Option 1: Ledges Elementary School- There were multiple community suggestions around the Ledges state park. The theme of the building was taken from beautiful views and natural elements of the state park. . It is a name easy to say for students. Option 2: Willow Trail Elementary School- This was a suggestion from the community. A tree represents the learning and growing that happens in these early grades. We searched other places in Boone and surrounding communities to see if there was anything like this. It is a name easy to say for students, short, and has a welcoming tone. Click here to vote:
https://forms.gle/t7iNvLwZp3RgDPmBA


Help us choose a new name!! Thank you so much for all your votes! We have over 700 responses, but we want to make sure everyone has a chance to vote! Please make sure to vote by July 31st! Click on the link:
https://forms.gle/r9TXp2TXX6DjArHLA


Boone Community School District now has an Instagram! Please follow our page! @boone_csd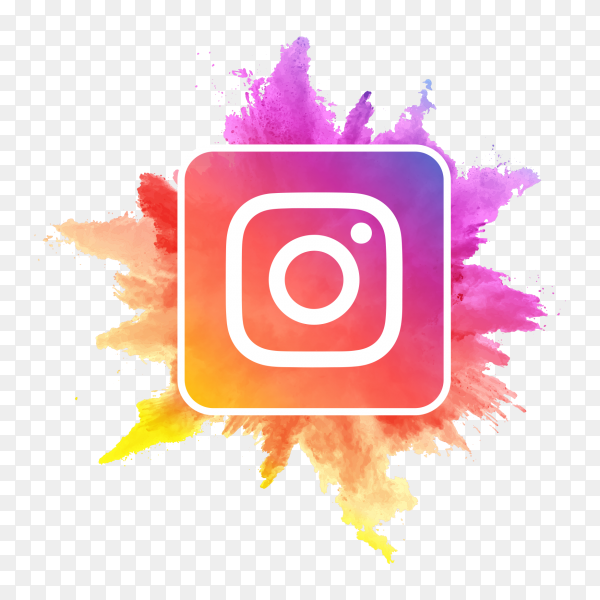 We hope everyone is enjoying their summer! It's hard to believe we are almost half way through July! Here are the supply lists for the 22-23 school year! Don't forget to register your kiddos if you haven't already done so! For existing students just go to your Infinite Campus Parent Portal, on the bottom left side of the page go to the 'more' tab and then 'online registration' tab. New students to the District please visit our website
www.boonecsd.org
and click the red 'new student registration' tab. Questions? Please contact Tanya Boustead
tboustead@boone.k12.ia.us
515-433-0750 ex 1124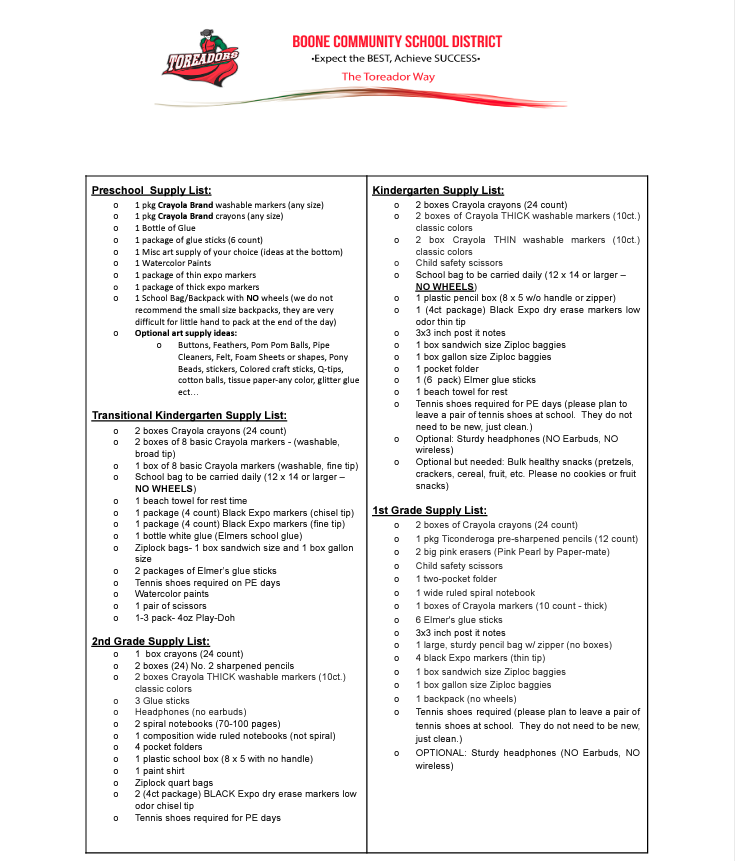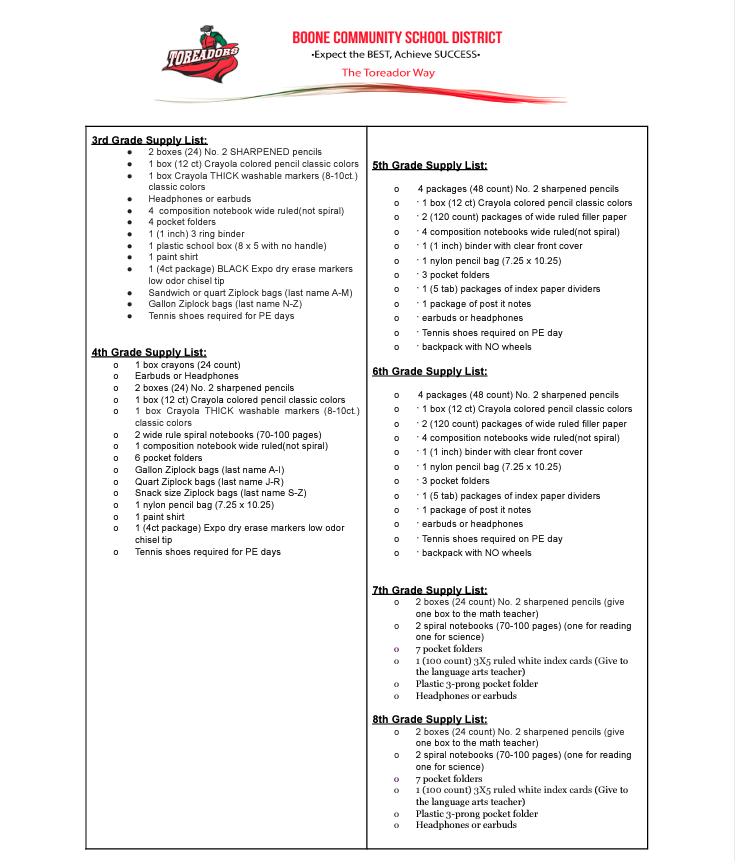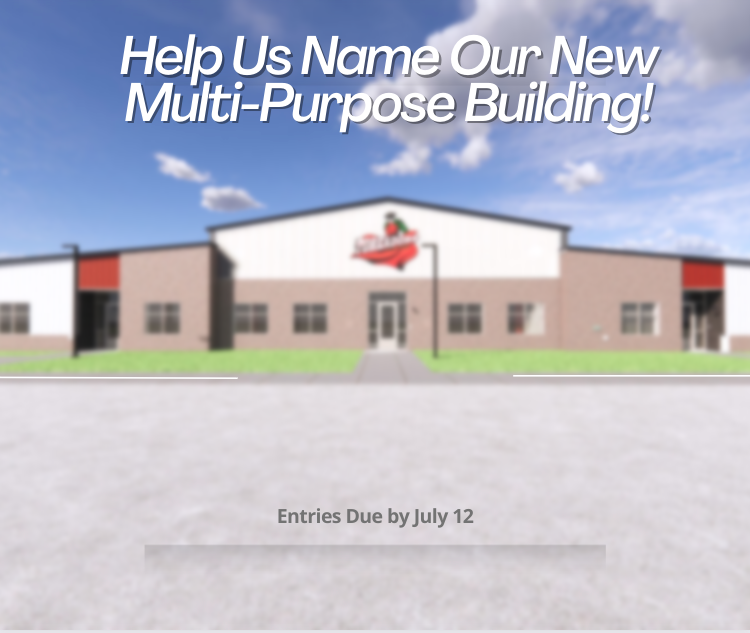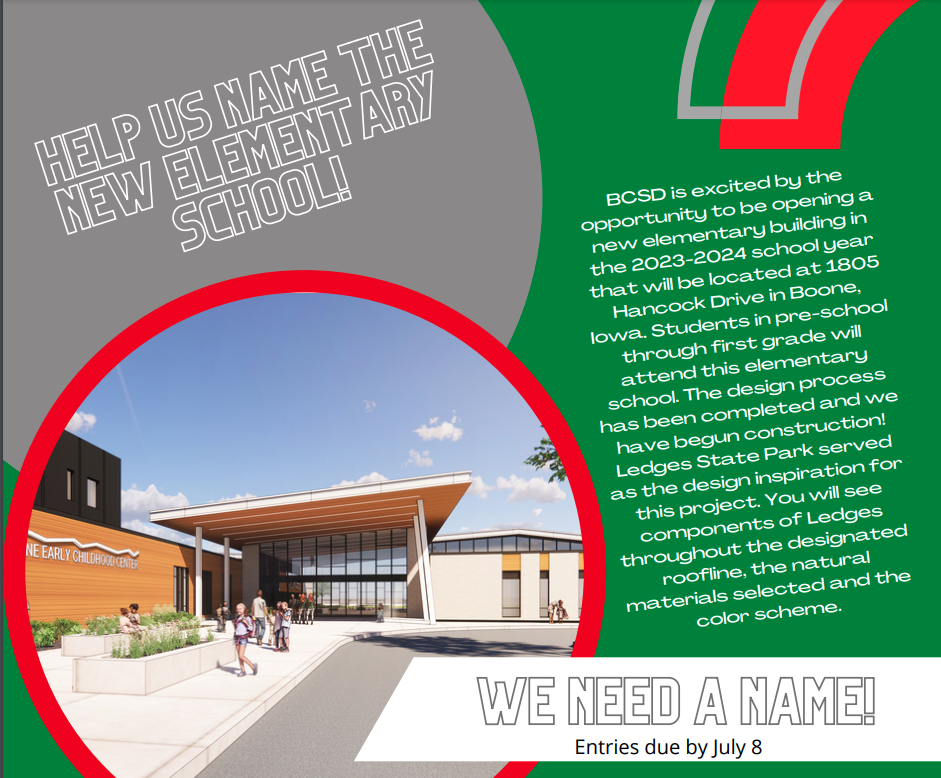 BCSD is pleased to be opening a new multi-purpose building in the Fall of 2023, which will be located at 215 W. 8th Street, Boone, Iowa. The multi-purpose building will house Futures (our alternative education center), our Toreador Food Pantry and our Homeschool Program. In addition to these programs, there will be a half-gym to be used by our students during the day, as well as for practice purposes in the evening. This space will be available for rent, just like our other school spaces (gyms, commons areas) throughout the district. The design work on this project is also complete, construction is underway, and it is time to name this building. Recommended names should align to the following criteria: 1) Shall not be in the name of a person 2) Shall not be a direction or be directional 3) Shall not be an animal 4) Shall consider whether initials or shortened version of the name have other meanings 5) Shall not be like or easily confused with area schools or school buildings 6) Shall be reflective of the community and represent BCSD excellence and The Toreador Way 7) Shall be culturally sensitive. (Example: A suggestion might be Boone Odyssey, because the building will house two different ways to explore education. Odyssey by definition means intellectual quest.) The Naming Committee will consider all suggestions that follow the stated criteria, narrowing down to a final recommendation to present to the Board in August. All submissions must be received by July 12, 2022 at 11:59 p.m. for consideration. Feel free to share this link with others to provide more opportunities for input. Thank you, in advance, for your thoughtful submissions!
https://forms.gle/BZMNjtXT17Q7oqJK6